29March2017 - Tom Hubert - Private Pilot
PRIVATE PILOT
On the windy and gusty afternoon of Wednesday, March 29, 2017, Mr. Tom Hubert passed his check ride with FAA Designated Pilot Examiner Brad Smith. Tom's instructor was Don Reeder.
We all recognize that smile! Well done Tom.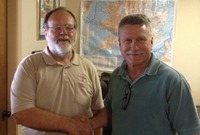 SOLO FLIGHT
Congratulations to Tom Hubert who soloed the Cherokee 140 on May 3, 2016. It was a perfect weather day to solo. Tom is a graduate of the Majors Flying Club 2015 Ground School and yet he came back for more! Tom did a great job and the plane is usable for future flights! According to Tom, "it was a piece of cake". Yeah, maybe, but what about the flight?
Kudos to Tom's instructor, Don Reeder. Don was as nervous as an "expectant father" but his student came through for him and that counts for a lot! It was hard to tell which one had the bigger sigh of relief.
Congratulations to both Tom and Don. Well done.
From left to right: 1st Solo in the Pattern, 1st Solo landing, Post Solo Grin, Post Solo Photo Op