23 August 2017 - Young Lee - Newest Private Pilot
PRIVATE PILOT
Mr Young Lee successfully completed his Private Pilot check-ride today (23Aug2017), dazzling the DPE, Mr. Brad Smith, with a superb display of airmanship, skill and cunning. Young said he was glad he passed the check-ride . Note the grin on Young's face!
Young was a member of the 2015 Majors Flying Club Ground School and soloed on November 30, 2016. It is great to watch a club member make their way all the way from Ground School to a certificated Private Pilot.
Great job, Young, welcome to the small world of Private Pilots.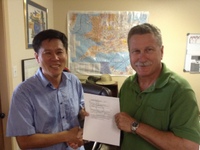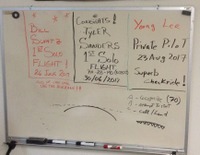 SOLO FLIGHT
Mr. Young Lee, under the tutelage of Mr. Dennis Mathis, did successfully complete his first SOLO flight in the mighty Cessna on November 30, 2016. Congratulation Young!